2020 Season Extended!
Fall Special: All lodging is $99 + tax for a 3 night stay, now through 10/31.
Free Camping and Lodging on Friday 10/30 and Saturday 10/31 for campers who have voted!
VOTE like your life depends on it – because it does!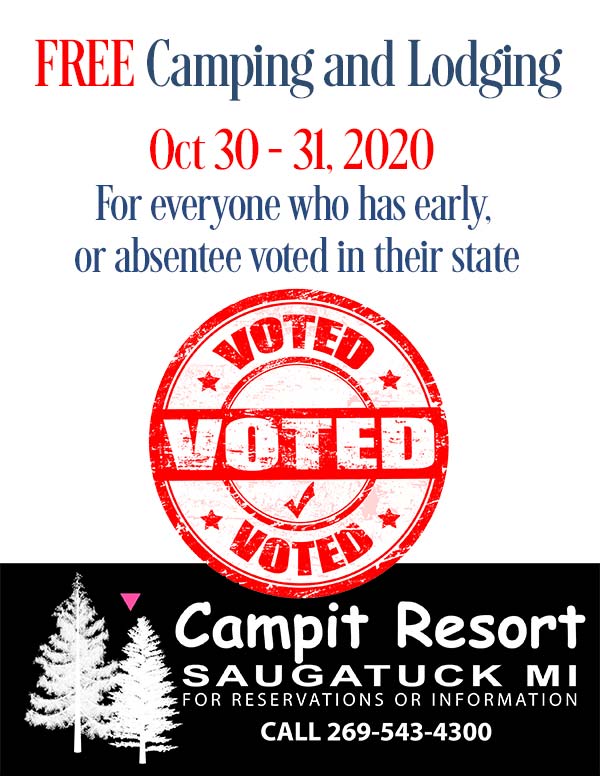 Come OUT! Meet OUT! Play OUT! Be OUT!
All of Campit's lodging and camping facilities are fully open through Sunday, November 1, 2020. All Campit events for the balance of the 2020 season have been adapted and are a go. We can get outdoors, have fun, enjoy Saugatuck and stay safe at Campit. We'll do it by being outdoors, distancing, wearing masks and limiting occupancy. Following are the details.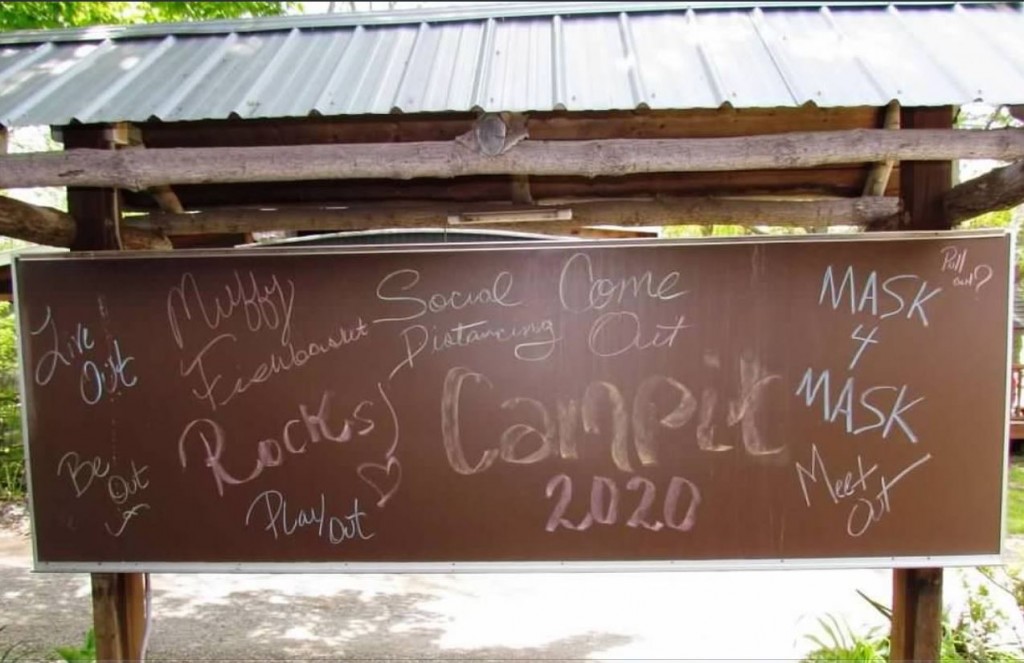 What Is Now Open – All of Campit's 32 overnight RV sites, all of Campit's 15 Sleeper Cabins, 11 Super Sleeper with private baths, 3 Resort Cabins and all of 9 of Campit's Bunkhouse Rooms, all of Campit's 85 Seasonal Second Home sites and 50 of Campit's tent sites are open to Members. In addition Campit's Pool, BigTop and all 3 Bathouses are open.
Health and Safety – We all rightly feel safer outdoors and we are. But we can't let this create a false sense of security. Following is what Campit is doing to maximize your safety and what we ask you to do.
What Campit Is Doing
Limiting occupancy at any one time in each bathroom or other enclosed space.
Limiting occupancy in the pool water to no more than 22 people at any time (that's 36 sq ft per/person)
Limiting occupancy to outdoor spaces like the Big Top to 100 people at any one time.
Providing sanitizing wipes and hand sanitizer dispensers at every bathroom
Using hospital grade disinfectant fog between check ins in every lodging unit and for deep cleans of the public bathrooms.
Requiring face masks at Campit Events
Recruiting and supporting Community Watch Volunteers to Remind People How to Stay Safe
Announcing shift change at the pool – we will periodically ask everyone in the pool to get out for a while so that others can safely get in.
What We Ask You to Do
Distance from others as much as possible.
Wear a mask to protect yourself and others whenever you are not distanced from others – this includes at all Campit events.
Practice hand hygiene.
Observe occupancy limits at Campit facilities
Enjoy the pool but don't be a pool hog. Exit the pool regularly so that others can safely get in.
It's not so bad. Just mask and/or distance – because it's the law and because it's the right thing to do.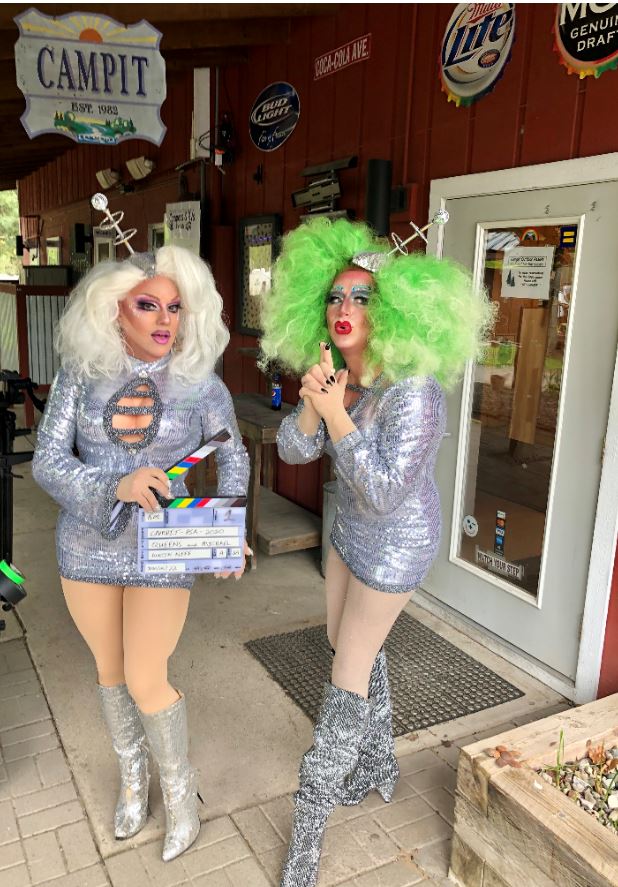 The New Space Age at Campit – We're all tired of words like COVID, pandemic and virus. But we're still going to need to manage a little differently and to play a little differently. So we're going to call this the new Space Age at Campit. Here's some of our Space Age ideas:
Space Age Reservations
You can make your reservations by phone or online. We'll ask that reservations are pre-paid or, for advance reservations, paid for at least 2 weeks before arrival to make Space Age Check-In possible. Cancel if you need to. Really, if you don't feel good, or because of allergies or something else are sneezing or coughing, please protect yourself and others. Just call us and cancel. We'll refund your money or change your reservation to a different date.
Space Age Check-In
Check in will be done from the seat of your vehicle. No need to come in the office. No need to exchange paperwork. We'll meet you at the gate and escort you to your site. We'll bring a Campit map, schedule for the weekend and a registration card you can sign and put in our drop box at your convenience.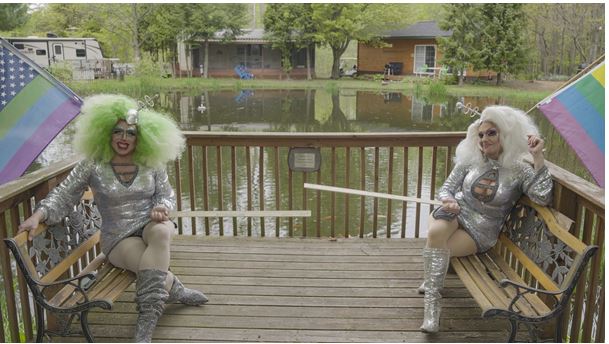 Space Age Rules of Engagement
We'll all respect each other's need for social distancing (aka space).
When we approach someone's camp fire or site, we'll just ask them if they can make space for us so we can join them.
It's okay to ask for some more space. "I need some more space" is going to be a completely okay thing to say to people who come too close without being invited to do so.
We'll treat facemasks as a symbol or respect for our community. Yeah, their uncomfortable. Yeah, most of us are cuter without them. But we'll wear masks whenever we can't appropriately distance and we'll support others who respect us by wearing masks. Campit will have individually wrapped masks available for $1. And homemade and fun masks are always welcome.
We'll be grown ups about all of this but will do it with the friendliness and good humor that characterize Campit Members.
Space Age Coffee in the Morning
A shared coffee pot and coffee in your own cup is going to be appropriate for a while but we'll still offer coffee in the mornings. We'll serve it to you in a disposable cup with lid and it will still be just 50 cents.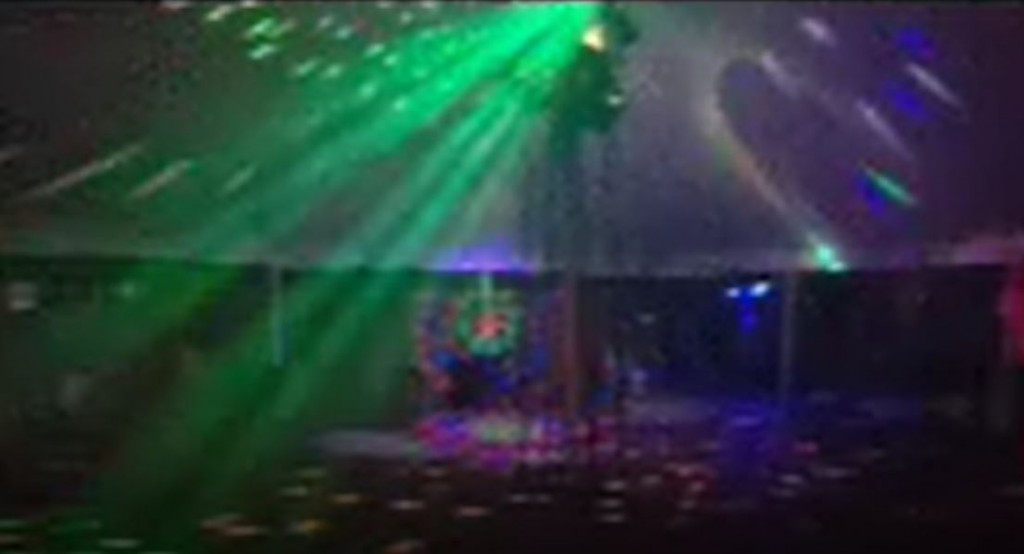 Space Age Social Events
We're still going to party! Space Age parties will come with a big upgrade to music and lights at the Big Top. We'll do a music and light show every weekend and will have a new layout on the dance floor so that we can distance but still Solo Dance ON the Stars ! As we adapt our events to this new environment we'll announce them on CampitResort.com and Facebook.
Space Age at the Campit Pool
Campit's pool and pool deck are now open so you can enjoy the heated and chlorine sanitized pool water as long as you give others some space.. You will see that we have removed most of the furniture so that you can spread out and still get some sun. For increased safety consider bringing your own chair to the pool with you. We limit occupancy in the water to 22 people and the State of Michigan limits occupancy at outdoor gatherings to 100 people at any one time.
Space Age Tenting
To allow for greater distancing, Campit has combined tent sites so tent sites are now twice as big as they were in the past.  Space Age tenting comes with lots more of the great outdoors.
Campit Resort – Saugatuck is an outdoor resort for all people identifying with the LGBTQ communities, their friends and allies. We are all affirming, with a reputation as a very friendly, welcoming and safe place to relax and play. Campit's beautifully wooded 33 acre property is located just 10 minutes from Saugatuck and Douglas, the Midwest's most popular LGBTQ vacation destination and it's beautiful Lake Michigan beaches. In addition to camping for both tenters and RV'ers, Campit offers a number of lodging choices including 22 Log Cabin rentals, a five bedroom Bunkhouse B&B, and Vintage Trailers. Weekly scheduled events and activities, a large heated pool, clubhouse, and a variety of other amenities provide a many choices for outdoor recreation and meeting great people.
How the largest gay resort in the Midwest is in Michigan's "Bible belt"
Saugatuck Named one of America's Best Little Beach Towns by Travel & Leisure Magazine
This former lumber town on the shores of both Lake Michigan and the Kalamazoo River has been a Chicago artist magnet since the 19th century, giving it the nickname the Art Coast of Michigan. Come and sketch the crazy-high sand dunes—the most popular being Mount Baldhead, a calf-burning 282 steps high—or ride the hand-operated chain ferry, the only one of its kind left in North America.
In 2019 Campit offered an opportunity to transition Campit Seasonal sites from rental to ownership. Not enough of Campit's current Seasonal Members subscribed to make the ownership model workable so it has been suspended at this time. We continue to do everything we can to insure that Campit's great community is sustainable into the indefinite future.
For more information or questions about the Campit Forever Campaign feel free to email Michael@CampitResort.com