About Campit
Campit Resort – Saugatuck is an outdoor resort for all people identifying with the LGBTQ communities, their friends and allies. We are all affirming, with a reputation as a very friendly, welcoming and safe place to relax and play. Campit's beautifully wooded 33 acre property is located just 10 minutes from Saugatuck and Douglas, the Midwest's most popular LGBTQ vacation destination and it's beautiful Lake Michigan beaches. In addition to camping for both tenters and RV'ers, Campit offers a number of lodging choices including 22 Log Cabin rentals, a five bedroom Bunkhouse B&B, and Vintage Trailers. Weekly scheduled events and activities, a large heated pool, clubhouse, and a variety of other amenities provide a many choices for outdoor recreation and meeting great people.
RESORT AMENITIES: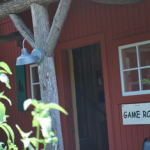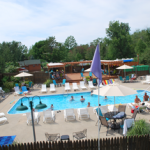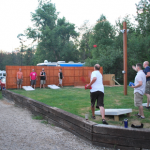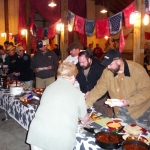 Campit's three bathhouses offer a variety of facilities including private showers, locker room style gang showers, and outdoor showers. The resort includes a clubhouse, rec hall, a game room, heated in-ground swimming pool, volleyball, horseshoes and popular nature trails for nocturnal exploration. The Campit Store is stocked with any essentials you may forget, plus ice, firewood, beer, groceries, frozen goodies, Campit wear, as well as an extensive collection of Pride merchandise. Campit's "Toy Store" for men and women provides a broad selection of leather items, novelties, personal items and accessories.
PET POLICY:

Friendly dogs and cats are welcome at Campit for tenting and RV'ing, in the Sleeper Cabins and in the Vintage Rental Trailers at the resort. Pets are allowed in the Standard Resort Cabin with an additional pet fee. To protect our members with allergies, pets are not permitted in those facilities where the resort provides bedding such as the Premium Resort Cabin rentals and the B&B. Campit's pet policy requires basic courtesy to other guests including keeping your pet leashed at all times, cleaning up after them and not leaving your dog unattended at any time. (Unattended dogs tend to get lonely and cry, disturbing other guests). Please register your pet with us when you check in – it's free, and helps us reunite lost babies and parents.
Please Note: A $30.00 housekeeping surcharge may be added to your credit card, after checkout, if additional cleaning is required following your pet's visit in our Sleeper Cabins, Standard Resort Cabins and Vintage Trailers.
Saugatuck/Douglas is central to major cities in the Midwest:
Chicago, IL
Cleveland, OH
Columbus, OH
Detroit, MI
Fort Wayne, IN
Grand Rapids, MI
Indianapolis, IN
Lansing, MI
Milwaukee, WI
Peoria, IL
Toledo, OH
Toronto, CAN
Windsor, CAN
140 miles
330 miles
360 miles
190 miles
180 miles
40 miles
250 miles
100 miles
220 miles
280 miles
220 miles
390 miles
200 miles