About Campit
Campit is a warm, welcoming gay and lesbian community for outdoor recreation. The resorts 33 acre property is open mid-April to mid-October. Campit members say that Campit is the place where they feel the most comfortable, the most at-home, the most welcome. On weekends Campit hosts adult (21+) men and women only. Every weekend begins with a Friday night get-together. Then everyone spends Saturday and Sunday enjoying themselves and their friends at the pool, at planned events, at private parties, at friends' campfires, in small or large groups. During the week, Campit welcomes families with children of any age. Mid-weeks at Campit are a little quieter and members have a chance to slow down and enjoy the beautiful park, including lovely landscaping, ponds, nature trails, and the pool. Campit is where you can be yourself, and get away to a world you belong in.
RESORT AMENITIES: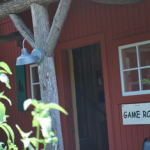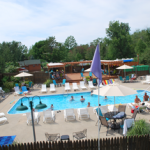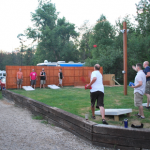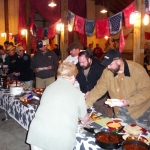 Campit's three bathhouses offer a variety of facilities including private showers, locker room style gang showers, and outdoor showers. The resort includes a clubhouse, rec hall, a game room, heated in-ground swimming pool, volleyball, horseshoes and popular nature trails for nocturnal exploration. The Campit Store is stocked with any essentials you may forget, plus ice, firewood, beer, groceries, frozen goodies, Campit wear, as well as an extensive collection of Pride merchandise. Campit's "Toy Store" for men and women provides a broad selection of leather items, novelties, personal items and accessories.
PET POLICY:

Friendly dogs and cats are welcome at Campit for tenting and RV'ing, in the Sleeper Cabins and in the Vintage Rental Trailers at the resort. Pets are allowed in the Standard Resort Cabin with an additional pet fee. To protect our members with allergies, pets are not permitted in those facilities where the resort provides bedding such as the Premium Resort Cabin rentals and the B&B. Campit's pet policy requires basic courtesy to other guests including keeping your pet leashed at all times, cleaning up after them and not leaving your dog unattended at any time. (Unattended dogs tend to get lonely and cry, disturbing other guests). Please register your pet with us when you check in – it's free, and helps us reunite lost babies and parents.
Please Note: A $30.00 housekeeping surcharge may be added to your credit card, after checkout, if additional cleaning is required following your pet's visit in our Sleeper Cabins, Standard Resort Cabins and Vintage Trailers.
Saugatuck/Douglas is central to major cities in the Midwest:
Chicago, IL
Cleveland, OH
Columbus, OH
Detroit, MI
Fort Wayne, IN
Grand Rapids, MI
Indianapolis, IN
Lansing, MI
Milwaukee, WI
Peoria, IL
Toledo, OH
Toronto, CAN
Windsor, CAN
140 miles
330 miles
360 miles
190 miles
180 miles
40 miles
250 miles
100 miles
220 miles
280 miles
220 miles
390 miles
200 miles