New Year Gratitude This New Year's greeting is about Gratitude. I recognize what a painful and tragic year 2020 was for many Campit Members, many others in the gay community and many people we care about. Another virus laid waste to many parts of our lives and our lifestyle including our health, our livelihoods, and our communities. Even the ways in which we supported each other in the past were lost such as touch, hugs, friendly kisses, and other kinds of intimacy.
But as many wise people have said in many different ways, being grateful and sharing gratitude is powerful. "Be thankful for what you have; you'll end up having more. If you concentrate on what you do not have, you will never, ever have enough." Oprah Winfrey
Campit Gratitude – We have lots to look forward to in 2021 and much to be grateful for even after this very difficult 2020. Despite all the obstacles of 2020 there were many many people who stepped up to make surviving this year possible and who helped make it as enjoyable as it could be. First, I want to share my gratitude for those people and what they did for all of us.
Our Gratitude to Members – At Campit I am grateful first to Campit Members, both seasonal Members and occasional Members, who supported our whole community by wearing masks, distancing, adapting and otherwise protecting themselves and others from disease by changing the ways we interact in public.
Our Gratitude to Staff – Next, I want to thank the Campit staff who worked long and often difficult days to keep Campit's facilities clean and sanitized and to serve members in the safest possible ways. Those staff members include Austin, Brian, Carol, Carrie, Chris, Daniel, Johnny, Kim, Marcus, Mark, Pink, Richie, Rick, Shelly, Steve, Tim, Toby, and Tom.
Our Gratitude to Planners – I want to also thank the Campit Events Team whose creativity and adaptability made a distanced summer fun. Those people include Brian, Carol, Jacob, Johnny, Mark, Matt, Patrick, Stephanie, Steve, and Tom.
Our Gratitude to Performers – I want to thank Lucy, Muffy, Sunny and DJ Steve whose talents helped us laugh and whose live performances and entertaining "public service announcement" videos on the Campit website and recorded pool announcements reminded all of us how to adapt.
Our Gratitude to Volunteers – And I want to thank the volunteers for Coffee With Vern who, led by Campit Seasonal Vern and supported by Dawn, David, and Jim, prepared, and safely served up coffee and conversation every Saturday and Sunday morning of the season.
Thank you all! I am enormously grateful for what you did for Campit and for Campit Members in the challenging, but in the end very enjoyable, summer of 2020.
Looking Forward to 2021 -And as for what we can look forward to in 2021, we look forward to vaccines and therapies that will reduce the threats to our health, we look forward to a new President who has a demonstrated understanding of and support for the human rights of LGBTQ+ people and we look forward to even happier days and easier summers.
So, let us celebrate this Happy New Year with happiness and gratitude!
* * * * * * * * * * * * * * * * * * * * * * * * * * * * * * * *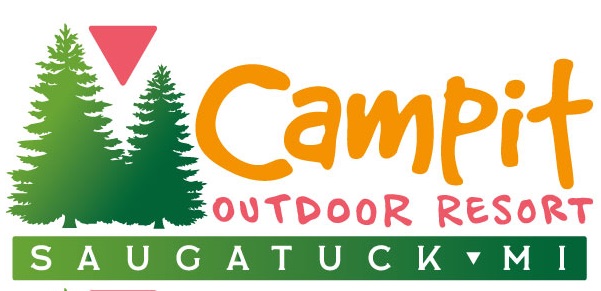 A Look Back At 2020 – the Summer of Adaptations
Campit Year End Video for 2020 compliments of Campit Seasonals Greg and Duane.
* * * * * * * * * * * * * * * * * * * * * * * * * * * * * * * *
Schedule of Events – Summer of 2021
Why Event Weekends – Campit is open to all Members 26 weeks per year we host an event of some kind on each of those weekends. Our events are intended to bring together Members with common interests for a weekend of fun and opportunities to meet new people.
Events Weekends You Picked About two thirds of the event weekend themes are perennial Member favorites so for those we do our best to re-schedule those events at approximately the same time each summer. This year we conducted a series of polls on Facebook to identify what kinds of events Members most wanted to see. We were pleased and impressed by the amount of input we got from the polls and by the thought that people put into them. The most popular event themes were DILF, Music Festival, Prom, Campfires and Flannel and Retro 80's.
As a result of your feedback, we have incorporated those ideas in the 2021 schedule:
* * * * * * * * * * * * * * * * * * * * * * * * * * * * * * * *
Seasonal RV Homes and Home Sites at Campit
Affordable Saugatuck – Saugatuck is the Midwest's most popular LGBTQ+ vacation and get away destination. Campit is major part of that draw. And the best and most affordable way to have your own place in Saugatuck is a Seasonal Home Site at Campit. Many long time Campit "Seasonals" have settled into RV homes at Campit with beautifully landscaped yards and gardens, great decks, and screen rooms which they enjoy throughout the summer. And Campit Seasonals are part of tightly knit community of friends and neighbors.
Seasonal Homes at Campit – Campit Seasonals lease a site for a year at time, often renewing the same Seasonal Home Site for many years. Rates start as low as $323/month on a 12-month installment plan. New Campit Seasonals can either bring an RV they already own to a Seasonal Home Site or purchase a previously owned unit already on a site. Seasonal RV Homes available for resale are listed on the Campit Resort web site. Detailed Seasonal Home Site and Seasonal RV Homes for sale information can be obtained my emailing Michael@CampitResort.com
* * * * * * * * * * * * * * * * * * * * * * * * * * * * * * * *
Job Opportunities
Campit seeks smiling people with a commitment to quality customer service to help us manage Campit. If you or someone you know is interested in a part time or full-time job starting in April of this year, please ask them to contact us at 269-543-4300. The jobs we are hiring for are:
· Guest Services
· Housekeeping/ Janitorial
· Night Auditor
· Food Truck/ Food Service
Reservations • Toll Free (877) CAMPIT-1 (226-7481) • (269) 543-4300
Please direct comments, suggestions and requests to michael@campitresort.com