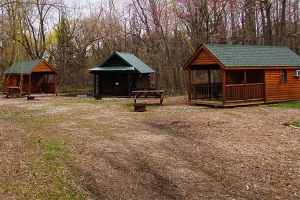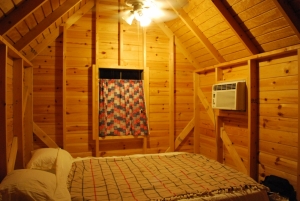 Campit's Sleeper Cabins are cute, one room log cabins for those who want to "camp" with a real bed and a roof over your head. All are equipped with a queen bed, air conditioning/heat, a ceiling fan, mini-fridge and a porch. Sleeper Cabins are comfortable for 1 or 2 people and because you bring your own bedding, all Sleeper Cabins are pet friendly.
Standard Sleeper cabins are one room log cabins without plumbing so visitors use one of Campit's 3 modern bath houses.
Our Double Sleeper Cabin is a one room cabin without plumbing and has the option of either one king bed or two twin beds.
Friendly pets are welcome but must be registered with Campit at the time of check-in. For details on our Pet policies see "Pets" on the About Campit page.
ADVANCE RESERVATIONS SUGGESTED, CALL TOLL FREE 1(877) CAMPIT-1.