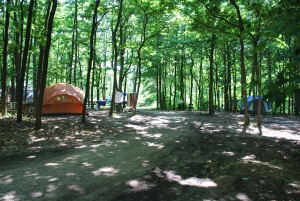 Tenting is very popular at Campit. Campit offers a variety of tent camping options in four distinct tenting areas. Following is a description of each area.
The "Old Horseshoe" is Campit's original and still most social tenting area. Its circular driveway provides easy access for setting up your campsite. (Note that onsite parking may be restricted on busy weekends.) All sites in the "Old Horseshoe" are equipped with electric service. $7/night is added the price of each site for the electric fee.
The "New Horseshoe" is Campit's largest tenting area and offers sites for more private camping in a rustic wooded setting. Eight tent sites in the "New Horseshoe" are now equipped with electric service for an additional charge of $7/day.
"Creekside" tenting area offers sites in a natural wooded setting without electric service available. As such, it tends to be the quietest tenting area
"Westwood" offers a large wooded tenting area with adjacent parking lot. Electric service is available on some sites. Westwood is not open all weekends but can be requested by ClubCampit Members.
"Wisconsin" is a very rustic and private, hike-in tenting area and offers camping and private sunbathing options.
What are the Best States for RV Living?
You can choose any state to be your domicile state, but there are three states that are "domicile friendly," making them popular choices for RVers: Texas, Florida, and South Dakota. These states make it easy to establish and maintain domicile. There are many mail-forwarding services set up in these states to process and forward your mail. They also have no state income tax.
If you establish domicile in one state but still have "contacts" in another state, you might find yourself caught between two states that both want you to pay income taxes or other fees. Choose one state, and cut ties with the other completely if you can.